Here's another excerpt. Enjoy!
Chapter 6: Addictive Design
Although dataism fuels the market (see Chapter 5: Dataism), there's no better fuel than good ol' fashioned consumer addiction. Cigarette companies and casinos know this, and now tech companies know it too.
Previously, you might have though that apps were designed just to deliver us a service, such as music, messaging, or photo sharing. As we explored in Chapter 2: Data Gathering, apps are also designed to gather user data. Finally, there's an third major design goal that most of us don't aren't aware of: user addiction.
Apps want to keep us logging in, generating data, feeling unfulfilled, and using again. After all, the more we use our apps, the more data we generate.
Classic Conditioning
Addictive app design connects back to a simple psychological concept: classic conditioning.
All animals know that if they perform certain actions (such as eating), they will get certain rewards (such as feeling full).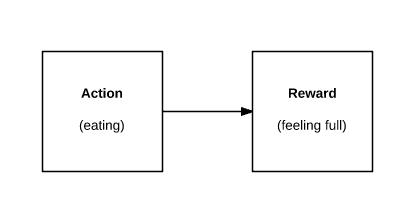 Classic conditioning is when a subject (a dog, for instance) is repeatedly exposed to a trigger (a bell) before an action (eating), linking that trigger to the reward (feeling full).

If the trigger-reward connection is reinforced enough over time, it'll become so strong that the subject will feel a craving (drooling) as soon he's presented with the trigger, even though the trigger has very to do with the reward. (The bells, of course, aren't what actually fill the dog's stomach.)

I've used the most iconic example of Pavlov and his dogs12 above, but you can find examples of classic conditioning throughout your daily life. For instance, when you walk through your front door (trigger), you might immediately want to take off your shoes (craving), because you know that if you do (action), you'll feel more comfortable (reward). Or when you hear your phone buzz (trigger), you might immediately want to check it (craving), because you know if you do (action), your brain will feel stimulated (reward).
This isn't the end of the story though. The trigger-reward connection in classic conditioning is actually quite fragile. Studies have shown that if a trigger does not lead to the expected reward a few times in a row (if the dog hears the bell but isn't given food afterward), the subject will quickly realize that the trigger is no longer a guarantee of the reward.13 They won't drool at the sound of a bell any more.
You might think that we work the same way with our apps. If you hear your phone buzz (trigger), want to check it (craving), check it (action), and don't see anything funny/exciting/interesting/upsetting (no reward), then theoretically you should realize that checking your phone doesn't guarantee a reward. If this happens just a few times in a row, classic conditioning says that you'll stop wanting to check your phone when presented with the same trigger as before.
Intermittent Variable Reward
However, this isn't the case. A much more powerful force — intermittent variable reward — is at play here.
Although we've been conditioned to expect rewards from our apps, we've actually been conditioned to expect them only sometimes, and each time they're a little bit different. The rewards are intermittent and variable. Sometimes when your phone buzzes, you see a #throwbackthursday post that gives you all the feels (reward). But other times, it's just a few event reminders and news notifications that you don't care about (no reward). The next 10 times you check your phone, there might not be anything interesting (no reward). But then one day, LinkedIn connects you with someone who ends up offering you a job (big reward).
You never know what reward to expect and when… if ever.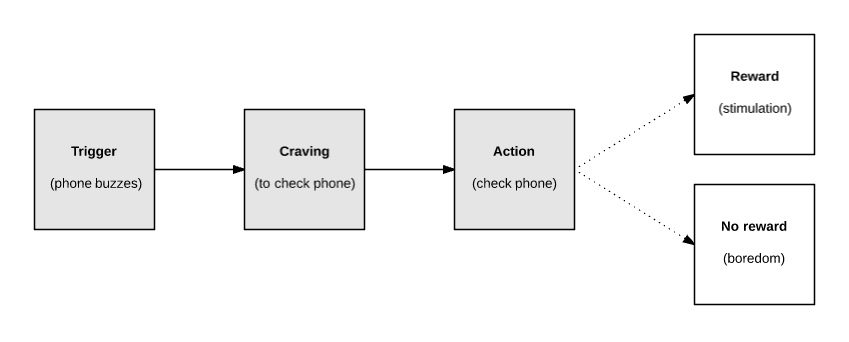 Intermittent variable reward is an powerful force. Unlike with classic conditioning, the trigger-reward connection in this scenario can withstand a lot of disappointment. Even if you haven't received a reward in a long time, you'll keep feeling the craving to check your phone.14
Slot Machines
Tristan Harris, former Design Ethicist at Google, has compared our use of technology to gambling at a slot machine. In a recent interview, he said, "Every time we check our phone, we're playing the slot machine to see, 'What did I get?'", swiping his finger across the screen as though he's pulling a lever. "The more random [the reward] is, the more variable it is, the more addictive it becomes."15 
According to Natasha Dow Shüll, author of Addiction by Design, people get "problematically involved" with slot machines 3 to 4 times faster than other forms of gambling.16 Americans spend $1 billion per day at slot machines,17 which generate more profit per year than movies, baseball, and theme parks combined.18 Comparing your phone to a slot machine is no small accusation.
"[S]everal billion people have a slot machine their pocket: When we pull our phone out of our pocket, we're playing a slot machine to see what notifications we got. When we pull to refresh our email, we're playing a slot machine to see what new email we got. When we swipe down our finger to scroll the Instagram feed, we're playing a slot machine to see what photo comes next. When we swipe faces left/right on dating apps like Tinder, we're playing a slot machine to see if we got a match. When we tap the # of red notifications, we're playing a slot machine to what's underneath."19
Motivation
Although I've only given examples of external triggers so far (bells and buzzes), internal triggers (emotions, goals, and fears) can be even more effective.20 Internal motivators don't require any outside impetus; they occur within us naturally throughout the day. Sometime we're lonely, sometimes we're bored, sometimes we're tired. We know our phones might give us a reward, so we check them after these internal triggers as well.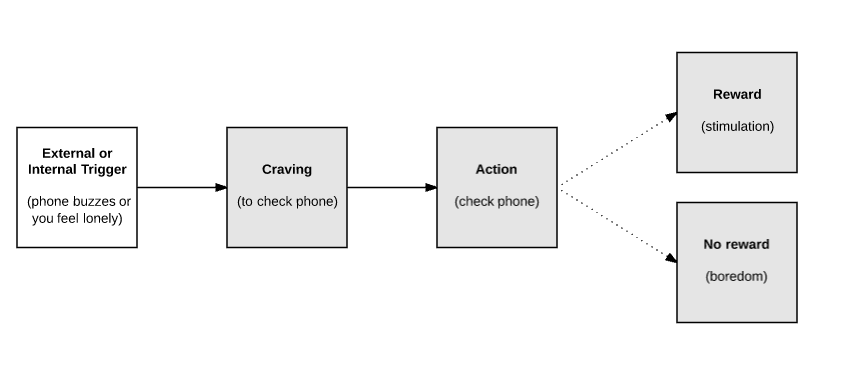 Conveniently, this means that your phone doesn't even need to buzz to get your attention. You can easily trigger yourself.
Investment
In Hooked, Nir Eyal argues that there is even more to our digital addiction than intermittent variable reward: investment.21
Not only do we constantly participate in the trigger-craving-action-reward cyle, but we also invest in our apps by building profiles, inputting information, and posting content. We invest by taking time to learn how to navigate a new interface. We invest by following other users and messaging with old friends.
This investment made us more emotionally and practically tied to the app, making it even stickier. As a LinkedIn product manager said, "If we could get users to enter just a little information, they were much more likely to return."22

Dissatisfaction
I've noticed that even when we get digital rewards, they never seem to fully satisfy us. No matter what, we still feel internal triggers. We're humans after all! No app is going to resolve our loneliness, boredom, or tiredness permanently.
Conveniently, this means that no matter how much digital content we consume, we will feel empty — willing to consume more. This leads to overconsumption, which I'll discuss more in Chapter 7: Digital Obesity.
Header image by Gregor Cresnar from Noun Project.
References:
---